QUALITY SERVICES
We are highly experienced and will go above & beyond for our clients, no matter the size of the job.
We offer all electrical services in maintenance and installation of new or existing domestic and commercial premises.
Domestic
DOMESTIC We are as proud of our work as you are of your home. We want to provide the best quality as well as the best looking job that we can. On time and on budget.
Building
BUILDING Our work starts with the plan, not the first fix. Getting it right there means everything goes smoothly and efficiently all the way to sign off.
Commercial
COMMERCIAL It doesn't matter if it is maintenance, installs or an efficient power management system, our promise is always a job done right by a reliable Master Electrician.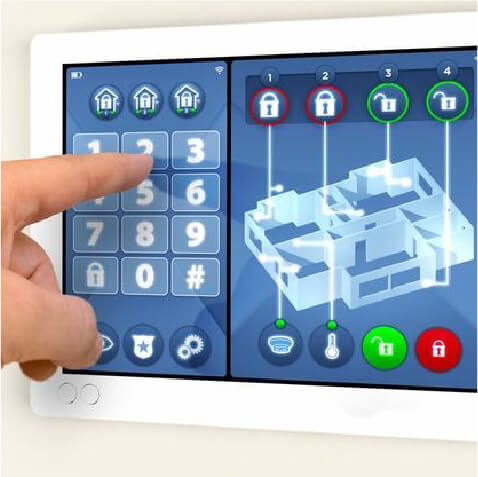 Security
SECURITY From smart locks to complex security systems we can design, supply and install surveillance and security systems for your home and business needs.
HEAR IT FROM HAPPY CUSTOMERS
Read the real reviews from our customers and make up your mind on the right electrician for you.
Promt efficient service. Thanks Nick T
Frank Dean
08:28 14 Aug 22
Always Excellent service would highly recommend.
Timothy Marshall
08:27 14 Aug 22
Fast and prompt service, highly recommended!
Gwendolyn R. Scott
02:31 12 Aug 22
Excellent service as always, and would thoroughly recommend the Paul and Nick the guys that attended our house. Cheers
Loes Harmen
17:07 09 Aug 22
Always Excellent service would highly recommend.
Marie Breton
16:00 29 Jul 22
Jason W you did an Epic job! Thanks mate.
Aiden Samuel
00:52 27 Jul 22
Oliver Elijah
12:47 24 Jul 22
Great to finally find a good electrician! Tyler was very professional, knowledgeable and did a fantastic job. He was also very polite and friendly. Will definitely be using him again and recommending him to others. Thanks so much Tyler 😊
Alan Hurst
11:00 22 Jul 22
Very helpful, and good communication. On time also.
Monica Hardin
12:46 21 Jul 22
Electricians Jason and Michael arrived at our property exactly on time. Thank you. All work was carried out very professionally and they are a credit to Electrical Bros. I strongly recommend E Bros for any Electrical work anyone needs.
Guy Palmer
03:27 20 Jul 22
Attended ontime at my Leederville property. Great Electricians.
Marcel Klug
15:57 19 Jul 22
Happy with electrical Bros service
Erica Stephens
11:11 16 Jul 22
Ali was very professional, pilot and walked me through everything I needed to know. He really went above and beyond to service me and answered all my questions clearly. I will never use another electrician! Thanks Ali 😊
Lucas Devid
11:14 07 Jul 22
Polite and friendly worker Very happy with the installation Cleaned up his mess when finished Thank you
Jacob Logan
16:30 29 Jun 22
After discussing with my daughter, she is extremely happy with the work. Thanks.
Efficient and prompt service from elect Bros!!
Had Jason come out to our house to complete alfresco blind installation by finishing off the electrical bit. Very professional and customer oriented service. Love his work.
kwaku m k saaka
06:38 10 May 22
I had Nick T install my fans last week. He was a lovely young man with great attention to detail. Wouldn't hesitate to use them again!
Jane Umbridge
00:34 03 May 22
Jason C and his coworker attended our property to set up our electric roller shutter. They texted when they were on their way, they were punctual, polite, professional and efficient! They showed us how to use the electric shutter and made sure we were happy with the install. They did a fantastic job.
Laura Tait
07:31 25 Mar 22
Had an outside the front door ceiling lamp installed by Nick who was right on time (which left me free for the rest of the day!), friendly, efficient and did a really clean job.I'm very happy and impressed with the work done and good value for money.I highly recommend this business.
vtownboxingfan
00:34 08 Jan 22
Had Michael attend to complete a Ozshut roller shutter installation for the electrical sideA SMS was sent before hand to advise of arrival and completed the job with no issues and cleaned up any messHe was also able to do aside job to replace a wobbly light switch
Steve J (Dragonscale1988)
05:49 07 Oct 21
Jono was on time, polite and professional.A real asset to Electrical Bros. Highly recommend.
Jake and Brody were clean polite young men whom I would welcome into our home anytimegreat job very professional we are so pleased thank you
Gabriele Nicholls
01:48 08 Sep 21
Jono arrived on time (early start!) and did a brilliant job of measuring up, taking our feedback and installing. Super nice person to deal with and very efficient, he is an asset to Elec. Bros. Many thanks
Robert Lurie
11:56 03 Sep 21
Had Jason come to my house to wire and install roller shutters. Did a great job and wouldn't hesitate to use electrical bros again.
Tom Penders
13:16 31 Aug 21
Excellent service from Johnno at electrical bro's, very professional and knowledgeable, have used his services and skills on multiple occasions now,I definitely recommend them for any future electrical needs
Caleb Hei Hei
07:03 30 Aug 21
Had them do the electric on new roller shutters they turned up the day the roller shutters we very polite and even cleaned up after themselves will happily use them again for any electrical work
Kelly Corteen
06:54 18 Mar 21
They arrived ahead of the scheduled time which was great! No fuss, they got the job done with haste. Great work!
Bacon Hurricane
07:21 09 Mar 21
The electricians were well presented, polite, on time and didn't leave any mess, just what I like.
Charmaine Mugford
10:28 05 Mar 21
Friendly workman, cleaned up well. Great job.
Bruno Tomadon
05:29 27 Feb 21
Quick, friendly and job well done
Thomas Westerhuis
23:21 25 Feb 21
Ellie Matthews
23:47 24 Feb 21
Very professional and great customer service. Highly recommend!
Brett woodhams
09:45 19 Feb 21
The best sparkies in Perth. Top Job. Great people. Five star service. Highly recommend
Alan Baxendale
13:08 18 Feb 21
Service amazing, very professional. Will be using them for future jobs, definitely recommend
Aimee Dorrington
09:29 18 Feb 21
Stefan and his team were an absolute pleasure to work with. Not only were they very professional but they were friendly which made it very easy to communicate what i was after. They left my house spotless as if they were never even there and i would highly recommend oz west electrical to anyone who wishes to get electrical services done which i already have done to numerous friends and family.
Brad Johns
09:13 18 Feb 21
Excellent service from stefan and his Team. Would highly recommend these guys.
Anthony Ryan
23:17 17 Feb 21
Our friendly electricians in Perth are ready to help you with anything you need. We offer effective electrical solutions to residential, commercial, and industrial spaces. We are trusted and renowned in the area for various electrical services. Whether you need a new electrical installation, maintenance or repair service, our tradespeople will show the best workmanship in every project. We can meet all your expectations with effective solutions and keep problems away. Want to install and fix electrical issues in your home or office? Call us on (08) 6263 0585 to speak to our electricians in Perth today.
CONTACT US
If you have any questions or want to get a quote straight away, get in touch today and we'll get back to you as soon as possible.
Efficient electrician are essential at homes, commercial spaces and industrial plants to keep issues at bay. The main work of electrical service involves wiring and lighting up a place. It also involves fitting electric appliances, electrical fixes, computer systems and outdoor lighting. Electrical works demand adhering to Australian industry codes. Safety and quality standards are duly followed in structure and installation. We provide quality electrical services for your home and office in all areas of Perth. Call us on (08) 6263 0585