QUALITY SERVICES
We are highly experienced and will go above & beyond for our clients, no matter the size of the job.
We offer all electrical services in maintenance and installation of new or existing domestic and commercial premises.
Domestic
DOMESTIC We are as proud of our work as you are of your home. We want to provide the best quality as well as the best looking job that we can. On time and on budget.
Building
BUILDING Our work starts with the plan, not the first fix. Getting it right there means everything goes smoothly and efficiently all the way to sign off.
Commercial
COMMERCIAL It doesn't matter if it is maintenance, installs or an efficient power management system, our promise is always a job done right by a reliable Master Electrician.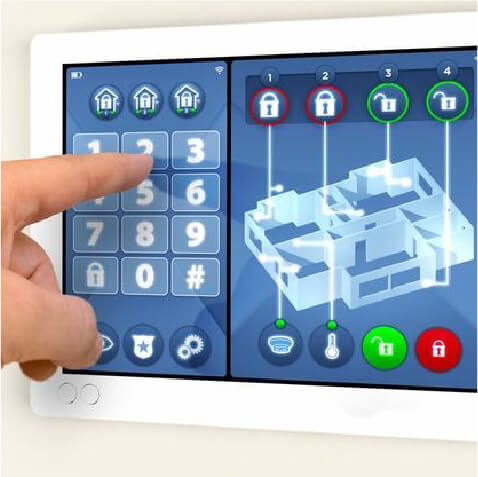 Security
SECURITY From smart locks to complex security systems we can design, supply and install surveillance and security systems for your home and business needs.
HEAR IT FROM HAPPY CUSTOMERS
Read the real reviews from our customers and make up your mind on the right electrician for you.
Another excellent job from Electrical Bros. This is the second time I have used them now and again they turned up on time and got the job done. They cleaned up all the mess after completing the job and were very professional and knew exactly what needed to be done. As an added bonus the invoice was a little less than expected which doesn't happen very often these days. Thanks to Owen and Brodie for the good work and the office staff for managing to fit me in with just a days notice. Would definitely use again.
steven pemberton
00:35 15 Mar 23
Great service. I highly recommend Electrical Bros Perth.Thanks🙏
A Google User
12:00 11 Mar 23
Jermaine Boivin
14:42 18 Feb 23
The guys who came into our home were polite and efficient. They did not stop until they were able to fix the problem. Good job!
Brittany Williamson
09:50 16 Feb 23
Hello, I just wanted to express that today's customer service was outstanding. The guys were incredibly polite, respectful, and knowledgeable. I appreciate the excellent service. With best wishes Denise
Hannah Buerki
06:39 16 Feb 23
Working with the team at Electrical Bros was excellent. Their tradesmen were very efficient and professional. The price that they gave me was what I was expecting. I would be glad to call them again in the future.
Eusebio Kaiper
05:24 16 Feb 23
The team at Electrical Bros was awesome. They did a great job fixing the problem that I had. Very thankful that they also cleaned up after their work.
Landen Krew
04:51 16 Feb 23
David Fernando
05:14 15 Feb 23
Excellent job very neat and tidy polite and efficient a true professional 5 star rating thanks
Ana Cambpell
15:10 13 Feb 23
Nick was great done a fantastic job and would recommend to anyone. Thanks.
Mark Powell
14:49 13 Feb 23
Fantastic service from Nick and the Team!
Corey Ellis
10:12 13 Feb 23
Great work, on time and left the place tidy
Linda Jennifer
16:33 07 Feb 23
Very quick and professional
Jorge Richardson
06:28 07 Feb 23
Fast and prompt service, highly recommended!
Marley Fuller
18:24 05 Feb 23
Excellent service as always, and would thoroughly recommend the Paul and Nick the guys that attended our house. Cheers
Kate Perkins
18:07 05 Feb 23
Ali was very professional, pilot and walked me through everything I needed to know. He really went above and beyond to service me and answered all my questions clearly. I will never use another electrician! Thanks Ali 😊
Gracelyn Cruz
19:03 04 Feb 23
Polite and friendly worker Very happy with the installation Cleaned up his mess when finished Thank you
Brooke Wright
18:53 04 Feb 23
Attended ontime at my Leederville property. Great Electricians.
Georgia Wilson
18:39 04 Feb 23
Always Excellent service would highly recommend.
Ivy Williams
17:56 04 Feb 23
kayley tucker
16:03 04 Feb 23
*Jason W you did an Epic job! Thanks mate.
Dott. Alberico Spadafora
18:17 03 Feb 23
Terrific installation by Paul and apprentice Brock, punctual and professional, highly recommend.
samuel maina
05:07 02 Feb 23
Professionals with can do attitude On time and very understanding. I would recommended.
Alexander Chen
02:05 02 Feb 23
I find them very very good and reliable and they clean up after plus the work is done ✔ I will be using you again 😀I highly recommend Electrical Bros perth. Thank you👍
Athlinco Starling
19:01 01 Feb 23
promt efficient service. Thanks Nick T
Everlee Fowler
18:29 30 Jan 23
Robin White
12:08 30 Jan 23
To both Paul and Sean, to let you know how refreshing it is was to have such professionalism, knowledged and great service, with a smile, it is rare to find in these times, THANKYOU:)
Khadim Fall
08:05 30 Jan 23
Thanks boys, turned up on time. Showed they were efficient at what they were doing, our second time using EB , more than happy thanks
Great service today from EB's Paul and Ryan who installed our new bathroom light and heater and did some preliminary work in our reno project. Their personable, efficient and professional manner is a credit to this great company! Awesome job guys, thank you.
The electricians were prompt and did a great job. I love it that they clean up after themselves!
Shifraw Sime
15:01 22 Jan 23
Professional doing his job and quick
Robert B. Rose
08:59 21 Jan 23
Lovely guy. Very helpful.
Naomi Mbuthu
18:41 20 Jan 23
The electricians were prompt and did a great job. I love it that they clean up after themselves.thanks
KIM KARDASIAN
17:35 20 Jan 23
Very quick and Professional doing his job and quick.highly recommend. thanks
Purity Njoroge
17:32 20 Jan 23
Professional doing his job and quick.thanks
Very quick and professional
Juan Carlos
19:41 14 Jan 23
Satisfaction, on time and very professional.
Kaua Galdino
19:39 14 Jan 23
Great work, on time and left the place tidyI highly recommend this company.
Great work, on time and left the place tidy
Augusto Bittencourt
19:37 14 Jan 23
Professionals with can do attitude On time and very understanding. Thank you
Isabela Gomes De Oliveira
09:48 06 Jan 23
Thank you very much, did a great job.
Justin Reyes
15:46 05 Jan 23
Nick G and Nick LDC were very pleasant and courteous, worked cohesively as a team, and were very neat and tidy. They had the old oven out and the new one installed very quickly. We appreciated our old oven and the packaging from the new oven being taken away. Thank you
Jacob Turner
10:39 05 Jan 23
Tech guys were amazing and early. Super pleased.
Eric Porter
12:35 04 Jan 23
Great to finally find a good electrician! Tyler was very professional, knowledgeable and did a fantastic job. He was also very polite and friendly. Will definitely be using him again and recommending him to others. Thanks so much Tyler 😊
Herta Schmidt
17:27 02 Jan 23
Very happy with the job and friendly prompt and quality work
Markus Livingston
17:44 01 Jan 23
Nick and Michael arrived at the estimated time and were friendly and helpful. They installed our oven correctly and took the old one away and cleaned up after themselves. Very impressed with their service.
Atticus Dominguez
16:20 01 Jan 23
Very prompt service Staff are friendly and professional
Larry Justin
16:45 28 Dec 22
Tyler and team have been exceptional on our renovation, working promptly, to a high standard and providing advice as needed.
Kyle Myers
16:30 28 Dec 22
Our friendly electricians in Perth are ready to help you with anything you need. We offer effective electrical solutions to residential, commercial, and industrial spaces. Whether you need a new electrical installation, maintenance or repair service, our tradespeople will show the best workmanship in every project. Call us on (08) 6263 0585 to speak to our electricians in Perth today.
CONTACT US
If you have any questions or want to get a quote straight away, get in touch today and we'll get back to you as soon as possible.